This photo looks southbound on West Henrietta Road at Thruway Park Drive, onto which NY 253 was recently rerouted. North of this point, these two routes overlap for a short distance. Just south of here, NY 253 had previously turned west onto Erie Station Road in West Henrietta. Thruway Park Drive serves an industrial area of the same name. The realignment of NY 253 was probably intended to improve commercial access to this area, as well as to divert traffic from the underpowered and unexpandable intersection of Erie Station and West Henrietta Roads. Still, the new route contains curves with advisory speeds as low as 25 mph.
Thruway Park Drive, formerly a dead-end road, was extended westward to intersect Erie Station Road. At this intersection, the NY 253 designation now leaves Erie Station Road for Thruway Park Drive. Erie Station Road was realigned so that it makes a right angle (it turns to the left in this picture) while NY 253 runs straight through. The new sign assemblies shown above are posted at this intersection.
This photo looks eastward on Erie Station Road (NY 253), with the new intersection at far left. The snow-covered former alignment is clearly visible here, with the continuation of Erie Station Road beyond.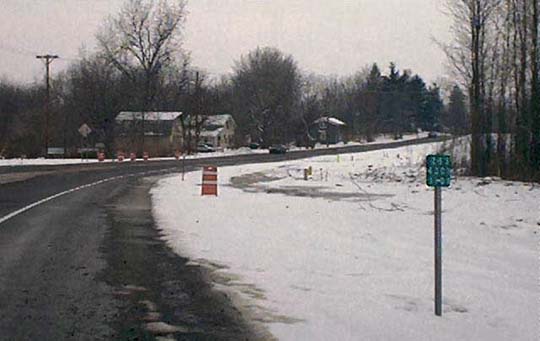 Facing the opposite direction from the above photo (compare the line of orange barrels in the background), this reference marker is one of a handful posted on the new alignment of Erie Station Road. The legend reads 253-4301-1101, while the old sequence in this area was 253-4301-1039. (See the reference markers page for an explanation of this.) There are no markers posted on Thruway Park Drive, suggesting that this road remains a Henrietta town highway. State touring routes signed over county highways are relatively common, but not so with town roads. New state right-of-way monuments have been erected that clearly show the limits of the project, and confirm that Thruway Park Drive is outside of the state-owned area.
An old reference marker for NY 253, located on Five Mile Line Road in the Town of Penfield. NY 253 used to include what is now NY 153, which ends at an interchange with NY 441. However, before this interchange was built, NY 253 ran to Penfield by way of Linden Avenue and Five Mile Line Road. This northern segment was retained for a time as a reference route, but has since reverted to the county.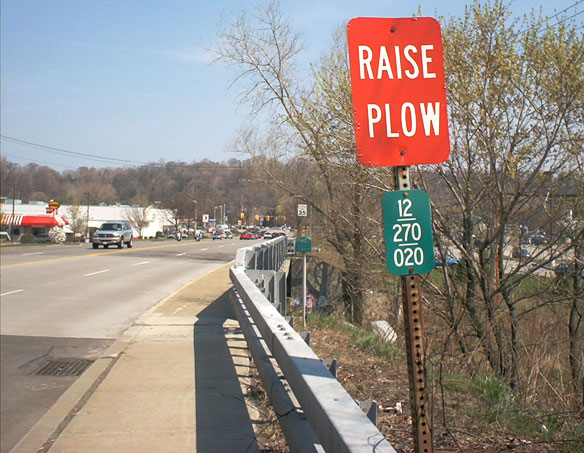 After NY 153 terminates at NY 441 on Panorama Trail, state maintenance continues a short distance northward on reference route 942B, which ends at the bridge shown here. At that point, the road becomes CR 270, and the bridge marker pictured reflects this. What is curious is that the county marker is located just in advance of the last state reference marker, in the background (see closeup). Still, it is clear that county maintenance begins with the bridge, which spans Irondequoit Creek.