Interchange of the Week
Monday, 29 September 2003

Theme and Variations: Folded Diamonds

(click any image to enlarge)
Folded Diamond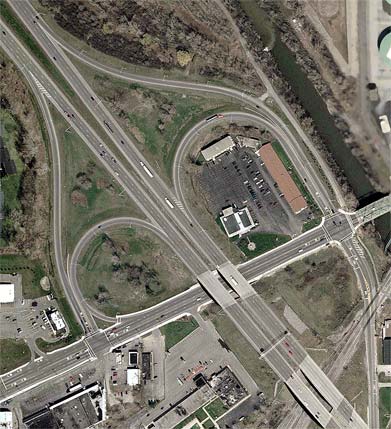 When for some reason it is not possible to construct ramps in all four quadrants of a standard diamond interchange, one or more of the ramps may be "folded" into a loop, as shown in the example above. Above is a view of NY 390 at Exit 25 (Vintage Lane) in the Town of Greece. In this case, a public park occupies land in the northwest quadrant of the interchange, resulting in the folded design.
It is also common for two ramps to be folded, as shown at right (Interstate 390 at Exit 19: NY 33A). Here, the close proximity of a railroad on the south side of the interchange, as well as an intersecting surface road (Buell Road), made necessary the configuration. Note the channelized right turn from NY 33A to the southbound entrance ramp, a common feature on folded diamonds. Note also that a business is situated within one of the loops.
Another configuration with two folded ramps is shown at left. Here, on the Lake Ontario State Parkway at NY 261, it was not space that dictated the design, since there is enough land reserved for a full cloverleaf. Rather, the sweeping ramps and widely spaced ramp intersections seem better suited to the aesthetics of a parkway setting, and this configuration is the basis for most parkway interchanges in the state.
It is tempting to refer to folded diamonds as quarter- or half-cloverleafs, but this is somewhat inaccurate. Interchange names, while descriptive, are most often used to denote an interchange's function rather than its appearance. The folded diamond retains the basic four ramps of a standard diamond, each having both a left and a right turn movement associated with it. A full or partial cloverleaf, however, has at least one added ramp that eliminates a left turn movement.

Incidentally, a half-diamond can also be folded, as shown at right (NY 590 at Exit 9: Norton Street and Bay View Road), although half-diamonds with both ramps folded are rare.


Other examples showing further variations

Week 2 (modified folded diamond)
Week 26 - Exit 9 (modified folded diamond)
Week 28 (overlapped folded diamond)
Week 31 (various folded diamonds)
Week 36 - Exit 15A (irregular folded diamond)
Week 46 - Exit 20 (modified folded diamond with toll plazas)
Week 50 (one-way folded half diamond)
Week 56 (folded half-diamonds)

---
Links
Diamond Interchanges at Kurumi's Field Guide to Interchanges by Scott Oglesby.

<< Back
---