Interchange of the Week
Monday, 15 September 2003

New York State Thruway - Exits 22 to 24, Selkirk-Albany

Exit 22
Orientation: The New York State Thruway, carrying the Interstate 87 designation, runs bottom to top at left. NY 144 is the diagonal surface road at right, with NY 396 branching from it toward bottom left.
Exit numbers: Exit 22 on the New York State Thruway is for NY 144 and NY 396, Selkirk.
The interchange: Little is remarkable about this interchange, which almost serves as a counterpart to nearby Exit 21A for local traffic west of the Hudson River. Like many Thruway interchanges, it is a "trumpet" configuration intersecting a parallel roadway, in this case NY 144. Although the interchange does not directly intersect NY 396, it was this route alone that was given on guide signage until fairly recently. The toll plaza here carries a maximum of three lanes, as this is a lightly-travelled interchange. At top right in the photo is a Thruway maintenance yard.
---
Exit 23
Orientation: The New York State Thruway (I-87) runs from bottom to top left. Interstate 787 begins at the interchange and runs toward the right, where it is joined by reference route 912S. According to route shields and reference markers, I-787 actually follows this roadway to its terminus at US 9W. However, recent records and mileposts show the Thruway connector as the true terminus, although this would do little to convince the casual motorist of the fact. US 9W enters at bottom center on Southern Boulevard, then curves onto McCarty Avenue, which runs along the top.
Exit numbers: Exit 23 on the Thruway is for I-787 and US 9W to Albany and Rensselaer. From I-787 northbound, Exit 1 is for US 9W. Southbound, Exit 1 is given as the New York State Thruway (I-87), because signage shows I-787 continuing via reference route 912S to US 9W.
The interchange: Because the Thruway system predates New York's Interstate highways, its interchanges with them have in most cases replaced earlier interchanges with surface highways. Today, these junctions usually consist of a trumpet interchange immediately followed by an interchange with the adjacent surface highway. In this case, immediately east of the toll plaza is an interchange with US 9W. A half-diamond serves traffic to and from the Thruway, while the remaining connections are made by way of reference route 912S and an entrance ramp from US 9W northbound.
Most of the areas and structures surrounding the toll plaza and interchange are Thruway Authority facilities, since that agency has its headquarters at this place (the main administrative building, just to the south on US 9W, is prominently visible from the Thruway itself). There is an access road, serving these areas, that continues through the interchange, having its own underpass for the northbound exit ramp and curving around the outside of the southbound ramps. This roadway not only serves official Thruway vehicles, but also provides the sole access for several residences south of the interchange.
---
Exit 24 (above)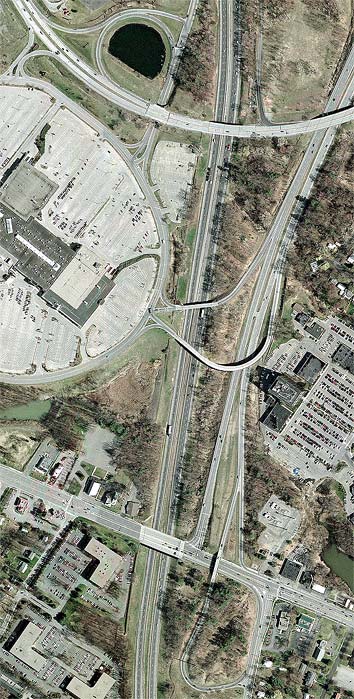 Orientation: The Thruway runs from bottom to top left. I-87 enters with the Thruway at bottom and moves onto the Adirondack Northway, exiting the photo at top right. I-90 enters with the Thruway at top left and runs toward bottom right. The two Interstates overlap through the toll plaza, while a short stretch of the Thruway, between the interchange ramp pairs, is technically unnumbered.
South of I-90, the Adirondack Northway continues as reference route 910F, also known as the Fuller Road Alternate (see below), toward US 20. Washington Avenue Extension (reference route 910D) curves across the photo from top left to bottom right. At bottom left is Crossgates Mall, anchor to a large retail district.
Exit numbers: Exit 24 on the Thruway is for I-87 north to Montréal and I-90 east to Albany (Boston-bound traffic via I-90 and the Massachusetts Turnpike is directed to use I-87 south to Exit 21A). Exit 1 is shared between Interstates 87 and 90, and is signed in various directions for I-87 north, I-90 east, and US 20 (via the Fuller Road Alternate).
The interchange: Originally built as a standard "trumpet" interchange, Exit 24 was reconstructed in the 1980s to accommodate the heavy traffic at this major Interstate junction. The current design features a simple Y-junction heading eastbound and a pair of reverse ramps heading northbound. Rapp Road crosses over the Thruway between these two ramp pairs. All of the interchange ramps have two lanes and are built to high-speed standards; the tightly curved northbound exit ramp is preceded by an extremely long deceleration lane.
East of the toll plaza, one of the busiest on the Thruway system, I-87 and I-90 split at a modified cloverleaf interchange. Again, this was originally configured as a typical full cloverleaf, but with the reconstruction project it was brought up to higher standards. All of the Interstate-to-Interstate ramps have two lanes, and flyovers replaced two of the cloverleaf loops. Ramps to and from the Fuller Road Alternate remain in their original one-lane form.
Fuller Road Alternate (right): The Fuller Road Alternate, commonly known as an extension of the Adirondack Northway, acts as a connector to US 20 (Western Avenue, bottom) and to Crossgates Mall (left) from the Thruway. Two ramps branch off, crossing over the Thruway, serving traffic between the mall and points north. There is also an interchange (a type of "folded" diamond) between Washington Avenue Extension (top) and Crossgates Mall Road. The full-size image shows other mall connections.
The Fuller Road Alternate meets US 20 at a stub end, where the freeway was once planned to continue southward. US 20 westbound takes a sharp right turn ramp to reach the northbound freeway. Eastbound traffic uses a loop ramp, which runs alongside, but separate from, Schoolhouse Road, which meets US 20 here. A left turn from northbound Schoolhouse Road to the loop ramp is also available. Notice how these ramps are delineated well in advance by pavement markings in both directions on US 20.
---
Links
New York State Thruway Authority official site.
Capital Highways by Christopher Jordan.

<< Back
---