Interchange of the Week
Monday, 23 July 2001
I-890 at General Electric, Schenectady
Erie Boulevard & Washington Avenue
Orientation: Interstate 890 runs from left to bottom right, passing by a major plant of the General Electric Company (bottom). A frontage road, actually Rice Road (reference route 912W) runs along the south side of I-890. Erie Boulevard curves across the bottom right corner, and NY 5 (State Street) does likewise at top right. Washington Avenue runs from I-890 northward across State Street along the right edge of the photo.
North Avenue serves the GE plant, branching from Rice Road west of Erie Boulevard. Old River Road provides another plant entrance off of Erie Boulevard (extreme bottom right). Schenectady County Community College is located at the junction of State Street and Washington Avenue.
Exit numbers: Exit 3 from I-890 is an eastbound-only exit marked "GE Truck Terminal". Exit 4A, also eastbound-only, serves the GE plant via its North Avenue entrance. Exit 4B in both directions is for Erie Boulevard and the GE plant. In the eastbound direction, this exit also serves Washington Avenue. Exit 4C, westbound-only, serves Washington Avenue and State Street; it is marked "TO NY 5 - Scotia".
The interchange: This complex consists largely of a series of slip ramps and "jughandles" serving commercial and commuter traffic to and from the General Electric facilities. However, it also incorporates a spur to Washington Avenue and what can be thought of as an elongated traffic circle on Erie Boulevard, both providing important connections to downtown Schenectady.
There are more exit and entrance ramps for eastbound traffic than for westbound, but this is probably due merely to the location of the GE plant along I-890's south side, rather than intentionally favoring any particular traffic pattern. Even so, traffic entering I-890 eastbound from the plant's eastern section must make two consecutive U-turns to do so. This is also true of traffic entering from Erie Boulevard, and one U-turn is required from Washington Avenue.
A summary of the connections provided by each ramp is given below.

I-890 eastbound
Exit 3 to GE Truck Terminal via Rice Road
Entrance from Rice Road serving traffic from NY 337 (off the left edge of the photo); corresponds to Exit 2
Entrance from GE Truck Terminal

Exit 4A to GE via North Avenue
Exit 4B to GE via Old River Road; also to Erie Boulevard and Washington Avenue
Entrance from Erie Boulevard and Washington Avenue; also from eastern GE areas
I-890 westbound
Exit 4C to Washington Avenue
Exit 4B to GE via North Avenue; also to Erie Boulevard
Entrance from Erie Boulevard and Washington Avenue; also from eastern GE areas
Entrance from GE Truck Terminal

Ramp at far left is Exit 2B for Old Rice Road
Other features: The entrance from NY 5 to Schenectady County Community College is also shown here. From westbound NY 5 the entrance consists of a road curving around along the Mohawk River, passing under the Western Gateway Bridge on NY 5. The campus also has an eastern entrance on Washington Avenue. Notice a U-turn for Washington Avenue traffic passing beneath the ramp from I-890: this allows campus traffic to reach downtown points in addition to I-890.

---
Stub of the Week - I-687 (click to enlarge)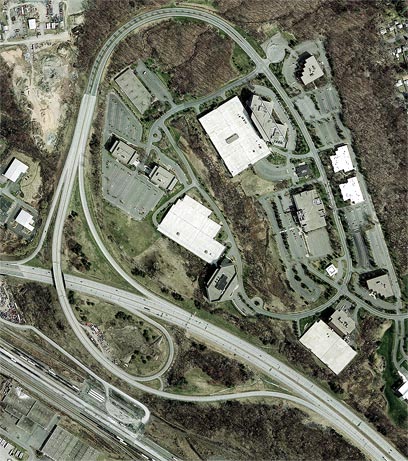 Exit 5A from Interstate 90 serves an office park known as Corporate Woods. The interchange consists of a high-speed "trumpet" design that is almost as large as the property it serves. The reason for this severely overpowered interchange is that it was originally intended to be the eastern terminus of Interstate 687. This highway was to pass through the Town of Colonie and connect to I-87 at Exit 3, now missing. For more information on this cancelled highway, visit Christopher Jordan's page at Capital Highways.

---
Link
Capital Highways by Christopher Jordan.

---
Feedback
Christopher Jordan writes:
"During morning rush hour, most of the traffic tries to get onto I-890 east from Erie Boulevard and Washington Avenue. Much of the traffic lines up on Washington because of a yield and the traffic from Erie. Now, if I do happen to miss the I-890 east exit, I could take the GE exit and do a loop around and try again. The whole interchange is signed pretty well, but may cause confusion to those who are unfamiliar with it, particularly when getting onto I-890 east. The key here is to keep left."

<< Back
---