Interchange of the Week
Monday, 16 July 2001
I-490, NY 33 & NY 531, Rochester
Orientation: Interstate 490 runs from bottom to top right, and NY 531 branches from it to top left. NY 33 runs along Buffalo Road from left to right.
Exit numbers: Exit 7A from I-490 westbound (top to bottom as shown above) is for NY 33 east, while Exit 7B is for NY 33 west. Exit 8 is for NY 531 to Spencerport and Brockport. From I-490 eastbound, Exit 7 is for NY 33 east, and Exit 8 is for both NY 33 west and NY 531.
The interchange: These two interchanges present a good example of overlapping forms. In this case, as in a great many others, two standard designs are modified only slightly in order to avoid weaving problems inherent with closely-spaced interchange ramps.
Had the junction of I-490 and NY 531 been constructed as a true directional-T, then Exit 8 eastbound would have been a left-hand exit. Traffic entering from NY 33 westbound intending to use NY 531 would then have to cross the through lanes of I-490 within a short distance. To avoid this problem, the Exit 8 ramp was made into a right-hand exit and combined with the exit for NY 33 west. As a result, the ramp that would have carried traffic from NY 33 west to I-490 east instead only leads to NY 531. To provide the missing connection, a left turn from NY 33 west was made available to the loop ramp from NY 33 east to I-490 east. A more costly option would have been to construct a branch of the ramp from NY 33 west, crossing under the Exit 8 eastbound ramp.
The interchange between I-490 and NY 33 is the only full cloverleaf in the Rochester area, albeit a slightly modified one. A true full cloverleaf formerly existed at I-490 and NY 31F, but this has been reconfigured.
---
Stub of the Week - Airport Expressway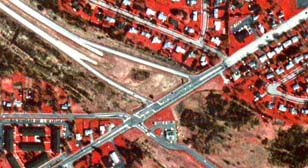 The Airport Expressway runs from I-490 at Exit 6 to NY 33A (Chili Avenue) at the Gates/Chili town line. It has one grade separation at Pixley Road, but no interchanges of its own. The controlled-access highway was to be extended across Chili Avenue to the Rochester-Monroe County Airport (now Greater Rochester International Airport). However, the plan was never carried out, and with the completion of I-390 along the west side of Rochester adjacent to the airport instead of terminating downtown, and later with improved connections to the airport terminal from Brooks Avenue, the project was cancelled. This last fact has been recently confirmed by the realignment of the stub end shown here into a single intersection with Chili Avenue, eliminating the pavement stubs and providing two full lanes of traffic to the expressway's end. The Airport Expressway's primary use today is as a commuter and truck route to the headquarters of Wegmans (just off the lower right), a chain of upscale food markets, and to other nearby businesses and homes.

A vestige of the road's original intent still exists in the NY 204 numerical designation, which follows the Airport Expressway, Chili Avenue, and Brooks Avenue to the airport entrance and I-390.

<< Back
---