Interchange of the Week
Monday, 18 June 2001
I-278 & NY 25, Queens
Orientation: The Brooklyn-Queens Expressway, carrying Interstate 278, runs from bottom left to top right. NY 25, following Queens Boulevard, runs from left to right. 65th Place is the street intersecting NY 25 just west of I-278, and the next westward crossroads is 61st Street to the south of NY 25 and 63rd Street to the north. The Long Island Railroad crosses both I-278 and NY 25 at top right.
Exit numbers: Exit 36 from the Brooklyn-Queens Expressway is for NY 25, Queens Boulevard. From southbound (westbound)* I-278, the separate exits are numbered 36E and 36W.
The interchange: This junction of an urban freeway with a principal surface arterial is a splendid example of the challenges of building an interchange in a restricted space with minimal disruption. This is a six-ramp interchange, a modified form of partial-cloverleaf favoring traffic movements to and from the north on I-278. It is an incomplete interchange, as there is no southbound access to I-278 from Queens Boulevard eastbound.
The northbound exit from I-278 joins the intersection of 65th Place and Laurel Hill Boulevard, the latter acting as a frontage road for I-278. Access to Queens Boulevard from this exit is made at its intersection with 65th Place. Northbound entrances from each direction of Queens Boulevard are made from its outer roadways.
From southbound I-278, there are separate exits for each direction of Queens Boulevard. The eastbound exit is made at a ramp just west of 65th Place: this ramp provides access to Queens Boulevard via 61st Street, or continues westward along Laurel Hill Boulevard to 58th Street.
The most unusual feature of this interchange is the entrance to I-278 south from Queens Boulevard westbound. Just east of 65th Place, lanes branch from both the express and local lanes of Queens Boulvard. After crossing 65th Place, these lanes descend into a tunnel, curving left under the intersection of Queens Boulevard with 61st and 63rd Streets, and re-emerging in the center of 61st Street to become an elevated entrance ramp for I-278.
Queens Boulevard: The configuration of Queens Boulevard through much of the borough is similar to that found on several other major arterials in New York City, such as Linden Boulevard and Grand Concourse. It consists of separate inner and outer roadways, providing three express and three local lanes in each direction (for a total of twelve). Slip ramps between the inner and outer roadways serve as exits and entrances between the express lanes and the various cross streets. Three of these ramps are visible in the aerial photo above: an eastbound exit for 65th Place and another on the I-278 overpass serving 69th Street, and a westbound entrance from 61st and 63rd Streets. Note that at its intersection with 65th Place, Queens Boulevard is a full fourteen lanes wide, including the two exit lanes to I-278 south.

*NOTE: Although I-278 is signed as an east-west route, it is more helpful for our purposes to discuss its course along the Brooklyn-Queens Expressway as a north-south route.

---
Stub of the Week - I-495, Calverton
(Click to enlarge - 221 KB)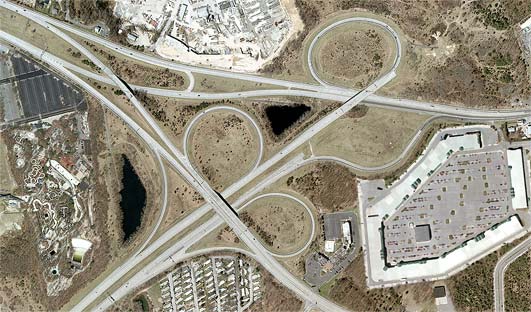 The present end of the Long Island Expressway (I-495) is at Suffolk CR 58 (Old Country Road), just east of where the latter splits from NY 25. The expressway's terminus was constructed in such a way as to allow for a possible future extension to the North Fork. Two ramps of a partial cloverleaf interchange connect I-495 with CR 58; this is signed as Exit 73. Also shown in the aerial photo is the half-cloverleaf intersection of I-495 with NY 25 at eastbound-only Exits 72E and 72W, and the grade-separated split between NY 25 and CR 58, which is very similar to that found at Sprakers (see Week 35).

---
Links
Brooklyn-Queens Expressway and
Long Island Expressway at Steve Anderson's www.nycroads.com.

<< Back
---