Interchange of the Week
Monday, 15 January 2001
New York State Thruway - Exits 5, 6 and 6A, Yonkers
Exit 5
Orientation: This photo overlaps the top of the Exit 4 photo from Week 11. The New York State Thruway (I-87) runs bottom to top. NY 100 runs along Central Park Avenue, entering at top right and ending at the Thruway interchange. Central Park Avenue continues southward as the county-maintained service roads on either side of the Thruway. Midland Avenue runs left to right at bottom.
Exit numbers: Exit 5 on the northbound New York State Thruway is for NY 100-Central Park Avenue, Yonkers.
The interchange: This is a partial interchange, having only a northbound exit from and southbound entrance to the Thruway. These ramps are visible at bottom, intermingled with those of Interchange 4 (Cross County Parkway; q.v.). The slip ramp from the northbound service road to the Thruway, and the offramp joining the southbound service road from the outside, are also part of Interchange 4. In addition, a full connection is available with Midland Avenue, by means of a quarter-cloverleaf in the northbound direction, and a city street connector (functionally also a quarter-cloverleaf) in the southbound direction. (This connector is actually part of Midland Avenue; the Thruway overpass is officially Midland Avenue Bypass.) This is really a separate interchange between Midland Avenue and Central Park Avenue; it is not counted among the Thruway's interchanges.

---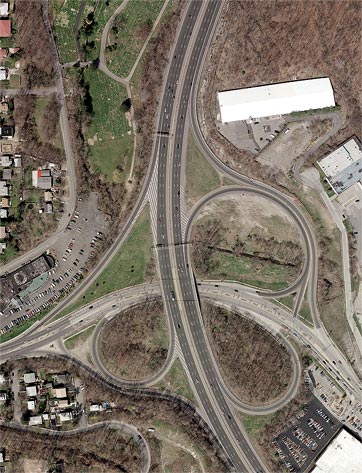 Exit 6 (left)
The next interchange is Thruway Exit 6 for Tuckahoe Road (running left to right). This is simply a cloverleaf with two missing ramps; these connections are provided by left turns on two of the existing ramps.

---
Exit 6A (right)
Orientation: Exit 6A is the northernmost interchange in Yonkers on the New York State Thruway. Sprain Road runs close by the Thruway on its west side, while Stew Leonard Drive runs westward from the interchange. Ridge Hill Road enters at bottom right, ending at the northbound exit ramp. At top right is the Yonkers toll plaza, southernmost of the four barrier toll points on the Thruway mainline. At right is wooded Sprain Ridge, preserved by Westchester County as part of its parks system.
The interchange: This exit is signed for Stew Leonard Drive (formerly Corporate Drive) and serves nearby stores and office parks. It consists of a diamond interchange with Stew Lenoard Drive. The original Exit 6A comprised a half-diamond interchange with Ridge Hill Road, which used to cross the Thruway on an overpass. This overpass and the original southbound entrance ramp have since closed, replaced by a newer ramp from Stew Leonard Drive. The northbound exit ramp was extended northward, and new ramps to and from the north were constructed at the Stew Leonard Drive overpass. These connect on the west to Sprain Road, which was made discontinuous at this point by the interchange reconstruction.
On the east side of the interchange is a parking area for truck trailers; this has a culvert-like underpass of Stew Leonard Drive just east of the northbound interchange ramps.
---
Links
New York State Thruway at Steve Anderson's www.nycroads.com.
New York State Thruway Authority official site.

<< Back
---